La Hacienda Hearst Ranch Winery's Luxury Adobe Guest Home
Active club members receive a 20% discount on nightly rates- mention your membership status when booking.
Tucked in the rolling hills of the Central Coast, Paso Robles is a place of captivating beauty and spectacular wines, a place of charming culture and charismatic people, a place unlike any other. Book a stay at Hearst Ranch Winery's La Hacienda and experience Paso Robles for yourself.
La Hacienda is located steps from Hearst Ranch Winery's Vineyard, Winery and Tasting Room where guests enjoy complimentary wine tasting during their stay. This luxurious historic adobe home features 2 master king bedrooms, 2 queen bedrooms, 4 bathrooms, 2 fireplaces, gourmet kitchen, living room, atrium, and formal dining room. French doors lead to the outdoor entertaining space featuring patio furniture, grass lawn, BBQ and firepit. Artisanal Mexican tile flooring, original oak hardwood floors, and brightly tiled bathrooms accent the professionally decorated interior. The home is private with views of the Salinas River, vineyards, and rolling hills dotted in oak trees.
Historic, unique, beautiful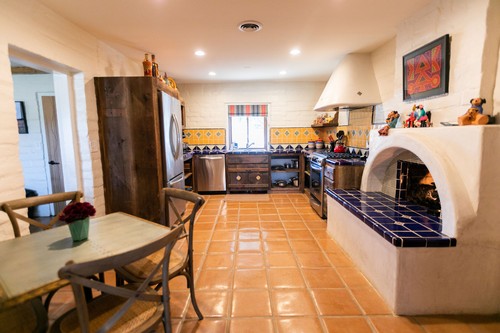 Proprietor's Jim and Debi Saunders acquired the home in early 2014. When they realized it was an original adobe, built not long after the San Miguel Mission in the 1700s (located just down the road), they knew they had something special. The original home was built from adobe blocks that were handmade from soil in the area by local artisans. During the careful remodel, they took great care to keep two small areas of the walls exposed so that guests can see the beauty and history in the handmade adobe blocks.