A Legacy of Quality tagline
Tasting Rooms Open Daily 11am - 4pm
Explore the Beauty of San Simeon
San Simeon Tasting Room
Overlooking a breathtaking bay, beside Highway 1 and across from the iconic Hearst Castle, our San Simeon tasting room is a must-visit destination.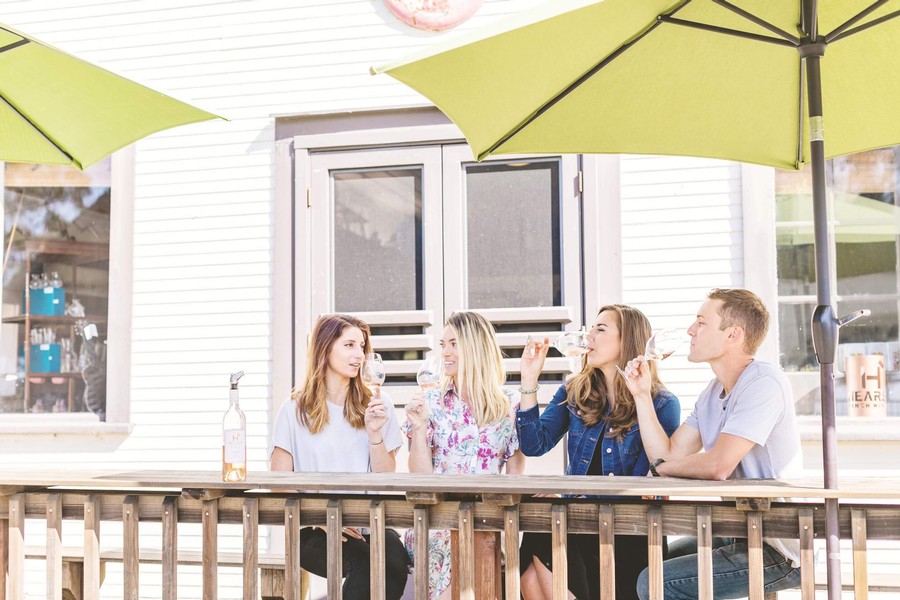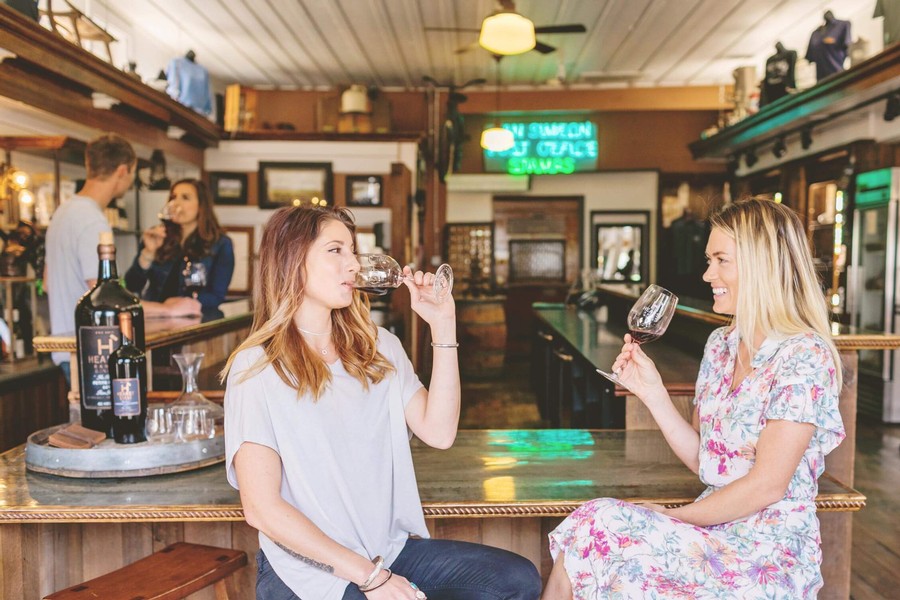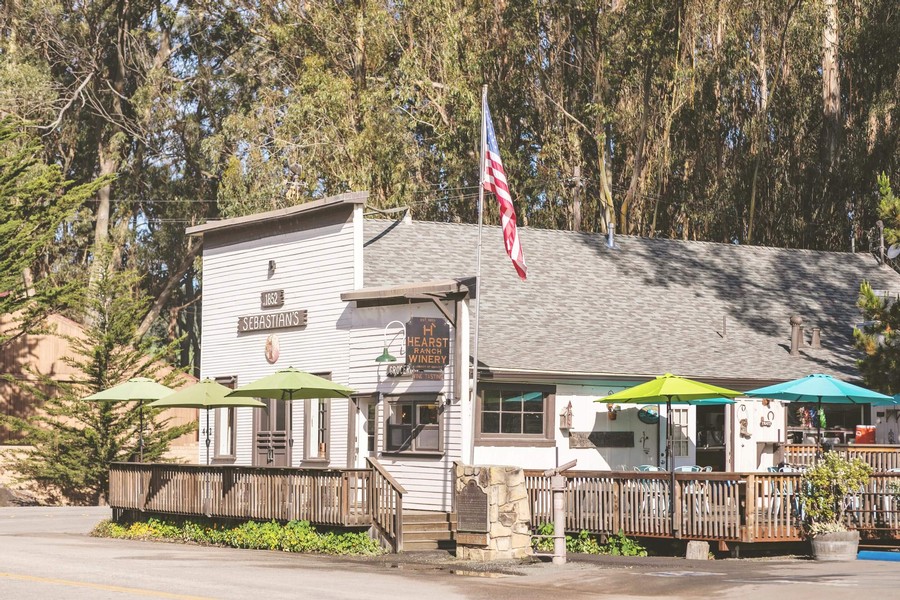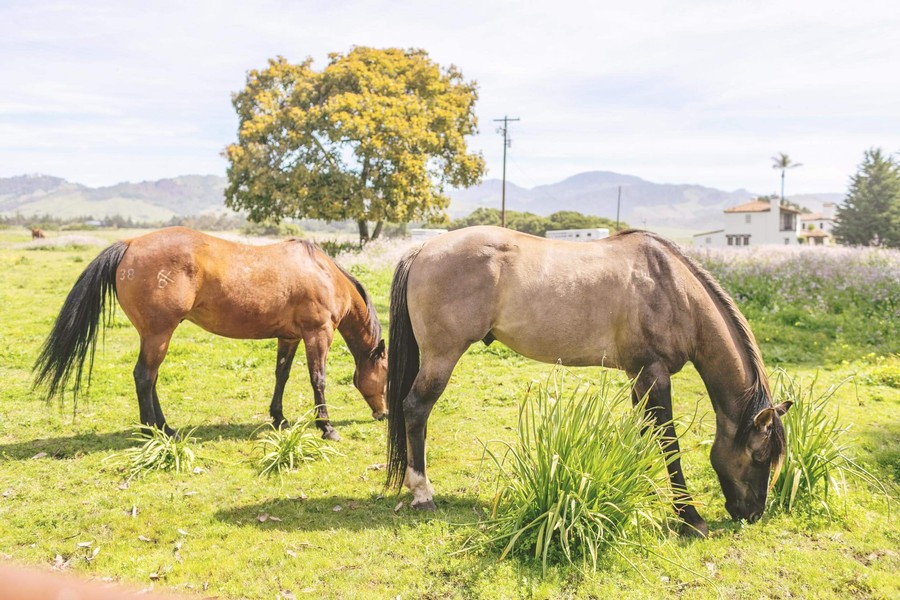 While the historic Sebastian's General Store undergoes an extended restoration, our San Simeon tasting room has been relocated to a larger, cliffside building across the street. With soaring ceilings, plentiful seating, and an accompanying cafe, our new tasting room is the perfect place to stop on your way along the Pacific Coast Highway. Enjoy excellent wine and a bite to eat inside or at our dog-friendly outdoor tables with sweeping views of the bay.
We're open daily from 11am to 4pm , with the exception of Thanksgiving, Christmas, and New Year's Day.
Reservations are not required, but are highly recommended. Please use the scheduling system below to make a reservation.

Our food truck is now with us Thursday through Sunday in San Simeon. On those days outside food is not allowed. Our deli case will be stocked with delicious cheese & charcuterie items everyday of the week. Guests are also welcome to bring a picnic to enjoy with wine when the food truck is not on site Monday through Wednesday Click here to view a sample menu
Guest Policies
For the safety of our guests and employees - and as mandated by new state regulations - we have some new rules in place that we must adhere by. We appreciate your understanding and compliance of these rules to help keep everyone safe and for us to keep the wine flowing!
-Masks are required for when you're not seated at your table (you will need them upon entry to our building, bathroom visits, ordering food, in the gift shop etc.)
-Group size (including children and non-tasters) is limited to six people.
-All guests must stay socially distanced from other groups (our tables are socially distanced & we have marked the ground for appropriate spacing in communal areas)
-Wine tastings are limited to 1 hour and 15 minutes to make sure our staff has enough time to sanitize for the next group
Make Your Reservation for San Simeon Now
Discover the Secrets of Saunders Vineyard
Paso Robles Tasting Room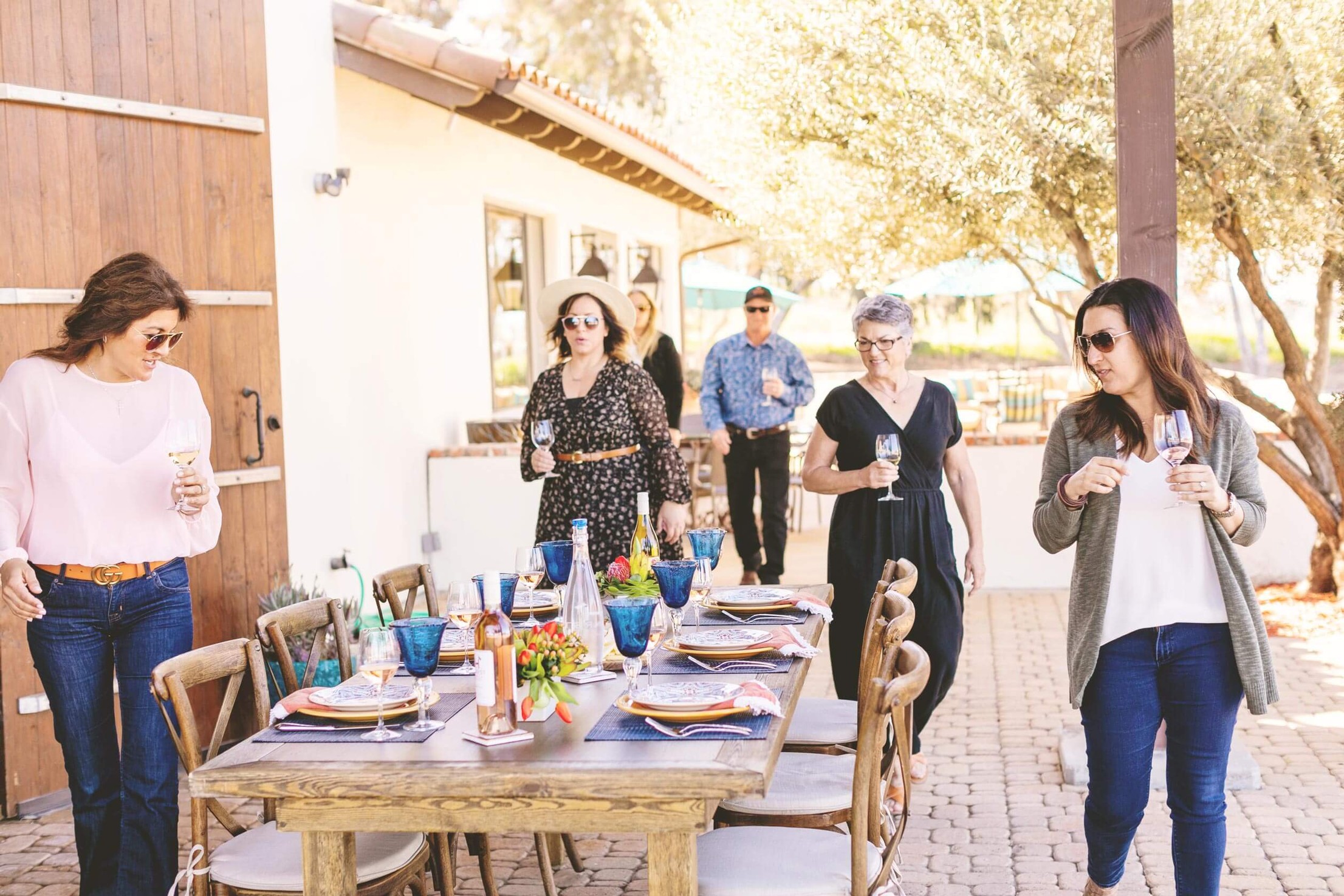 Everything you see and taste at our estate vineyard has been created with thought, planning, and careful stewardship.
Our tasting room is an intimate space with a wrap-around bar and wooden table seating that can be enjoyed in any weather. The large picture windows frame rolling hills dotted in oak trees and vineyards, with peeks of the Salinas River.
Outside, our dog-friendly patio is shaded by old-growth olive trees and thoughtfully placed sun umbrellas. An array of chairs and couches invite you to stay and linger away the afternoon with good friends, a bottle of wine, and some of our delicious deli items.
All the while, around each corner, you'll catch glimpses of the day-to-day work of a thriving estate dedicated to sustainable agriculture and superior wine.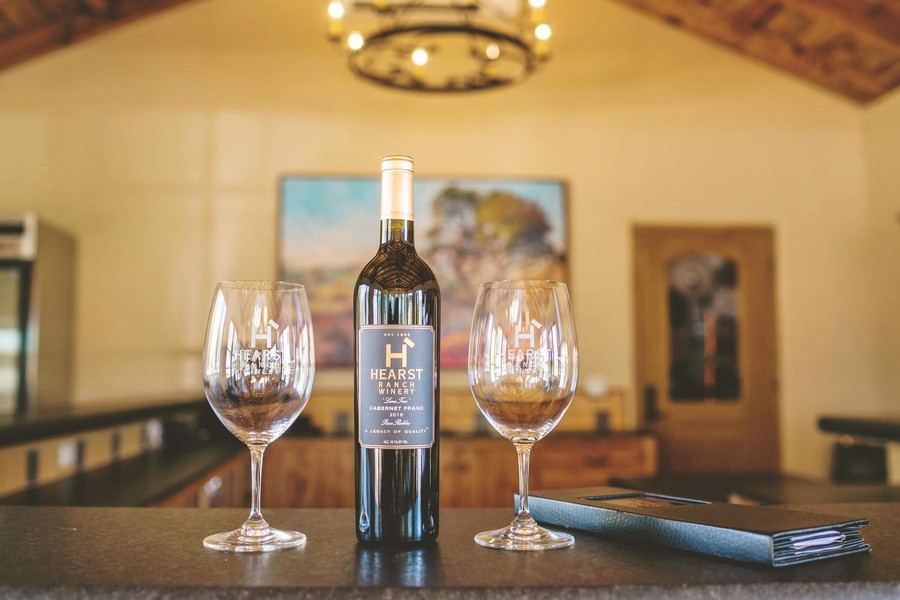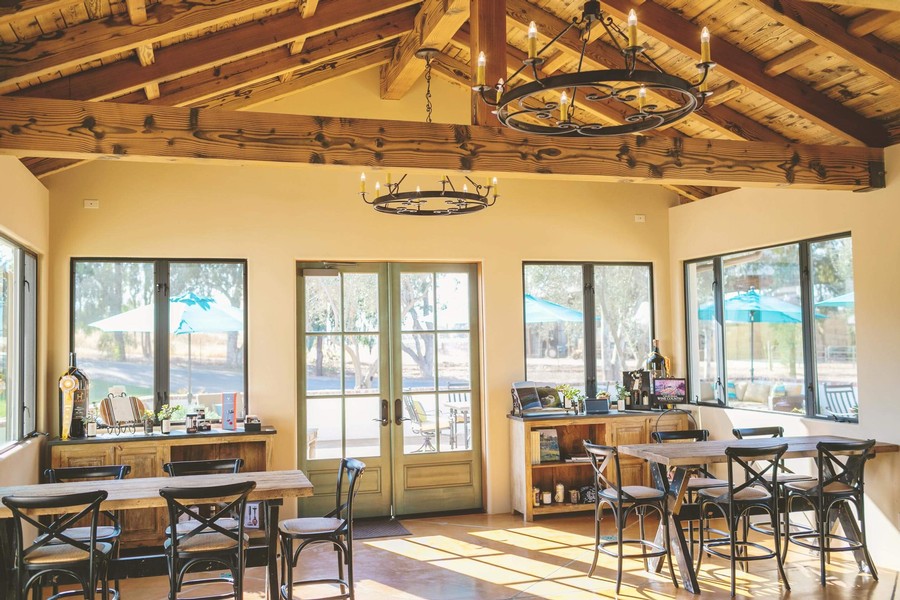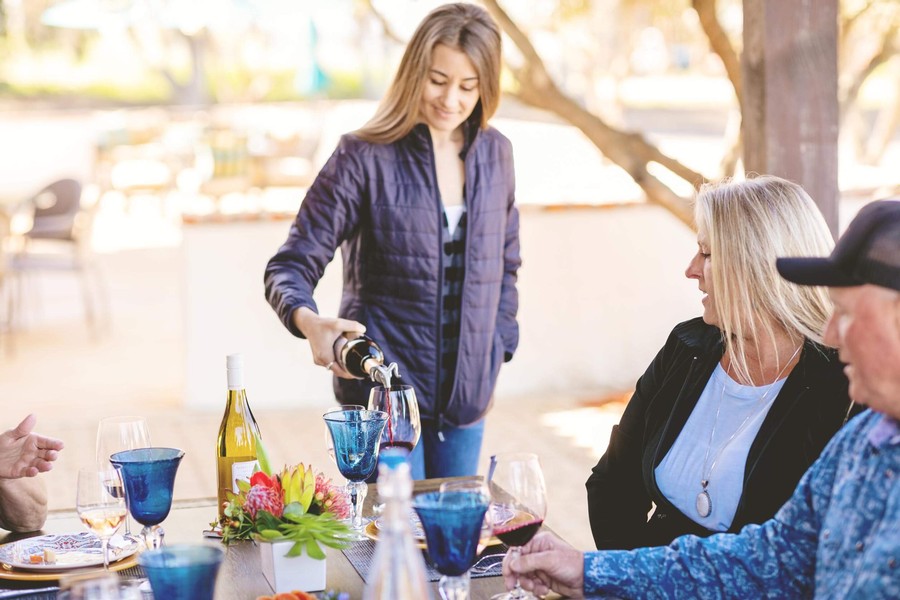 We're open daily from 11am to 4pm , with the exception of Fourth of July, Easter Sunday, Thanksgiving, Christmas, and New Year's Day.
Our Legacy wine tasting is $25 per person, waived with purchase of two or more bottles. The Proprietor's Reserve tasting is $35 per person, waived for Proprietor's Reserve members. Please use the scheduling system below to make a reservation.
Guest Policies
For the safety of our guests and employees - and as mandated by new state regulations - we have some new rules in place that we must adhere by. We appreciate your understanding and compliance of these rules to help keep everyone safe and for us to keep the wine flowing!
-Masks are required for when you're not seated at your table (you will need them upon entry to our building, bathroom visits, ordering food, in the gift shop etc.)
-Group size (including children and non-tasters) is limited to six people.
-All guests must stay socially distanced from other groups (our tables are socially distanced & we have marked the ground for appropriate spacing in communal areas)
-Wine tastings are limited to 1 hour and 15 minutes to make sure our staff has enough time to sanitize for the next group
MAKE YOUR RESERVATION FOR PASO ROBLES NOW